Leading Manufacturer of Office Chair Mat
Best Plastic Office Chair Mat for Carpet
Made by polycarbonate Plastic Material, the best protector of your Carpet and hardwood floor
Chair Mat is a cost-efficient way to protect expensive carpets, wooden or tiled floors from the damage caused by chair casters at home or office area. It can effectively protect the surface of hardwood floors and expensive carpets and reduce the scratches when your furniture and computer chair are moving on the floor. The matte surface can increase the frictional force and avoid slipping.
UVPLASTIC Office Chair Mat is made of Polycarbonate Plastic Material, which is the best material of plastic chair mats on floor and carpet protector mats because it is virtually unbreakable and always keep flat and smooth even under high temperature. Now, UVPLASTIC offers standard chair mats like round, rectangle, L-Type, and custom shapes, custom size, custom function like anti-static or ESD (Electro-static Dissipative Chair Mat), Chair Mat used outdoor.
Unlike PVC Chair Mat, UVPLASTIC Chair Mat is stronger, durable, and environment-friend, easy to be clean, and keeps flat always. UVPLASTIC is the top manufacturer of office chair mat and the best OEM Factory in China. We can provide custom chair mats according to different floor types, chair sizes, and desk sizes. It offers different colors for harmony with different furniture. The lifespan is more than 10 years.
Main Benefit
Excellent Impact Resistance: Polycarbonate chair mat is stronger than PVC mat, it is virtually unbreakable;
Flame Retardant: Polycarbonate offers excellent flame resistance, the normal fire rating is V2/UL94, up to V0/UL94, and meet ASTM E84 standard;
Environment-Friend: Polycarbonate is totally nontoxic material, it keeps a healthy indoor environment all the time;
Anti-slip Office Chair Mat: The matte surface can increase the frictional force and avoid slipping. Meantime it can block the scratches caused by chair casters;
Humanized Design: UVPLASTIC Office Chair Mat is designed into different sizes and sharps, meantime, provides custom chair mat;
Competitive Price: UVPLASTIC is the manufacturer of polycarbonate sheet and has own factory in China, therefore, we can keep the most competitive cost to meet your budget;
Durable: Polycarbonate is durable material, the lifespan is from 10 years to 20 years;
Frosted and smooth surfaces are available;
Easy to clean;
OEM & ODM: If you are distributor or online seller, UVPLASTIC is your best partner, because we provide the polycarbonate chair mats with custom size and shapes;
Custom Color: UVPLASTIC provides you the transparent and colored plastic chair mat;
Standard Office Chair Mat Specification
Office Chair Mat Range
| Products Name | Model | Thickness Range | One Polished Surface, One Frosted Surface | Remark |
| --- | --- | --- | --- | --- |
| Rectangle Chair Mat | UVPCM-R | 2mm, Custom Thickness | ✔ | Buy It Online |
| Square Chair Mat | UVPCM-S | 2mm, Custom Thickness | ✔ | Buy It Online |
| Circle Chair Mat | UVPCM-C | 2mm, Custom Thickness | ✔ | Buy It Online |
| L Type Chair Mat | UVPCM-L | 2mm, Custom Thickness | ✔ | Buy It Online |
Rectangle Office Chair Mat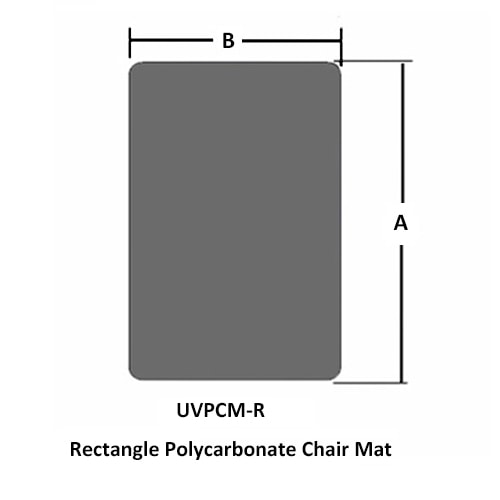 Model
Surface
A
(mm)
B
(mm)
Thickness
(mm)
UVPCM-R-M
Polished / Frosted
762
609
2mm, Custom Thickness
UVPCM-R-L
Polished / Frosted
1219
762
2mm, Custom Thickness
UVPCM-R-XL
Polished / Frosted
1219
914
2mm, Custom Thickness
UVPCM-R-XXL
Polished / Frosted
1270
965
2mm, Custom Thickness
Square Office Chair Mat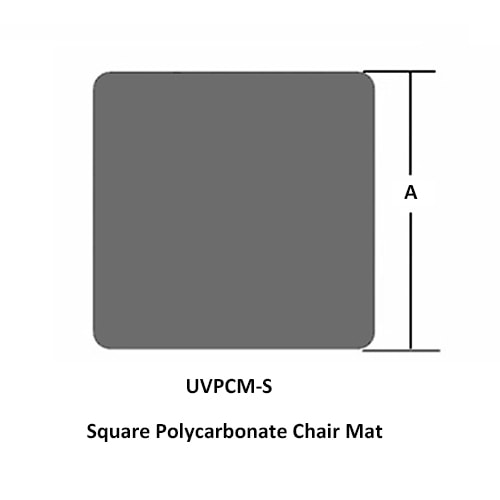 Model
Surface
A
(mm)
Thickness
(mm)
UVPCM-S-M
Polished / Frosted
762
2mm, Custom Thickness
UVPCM-S-L
Polished / Frosted
889
2mm, Custom Thickness
UVPCM-S-XL
Polished / Frosted
965
2mm, Custom Thickness
UVPCM-S-XXL
Polished / Frosted
1066
2mm, Custom Thickness
Round Office Chair Mat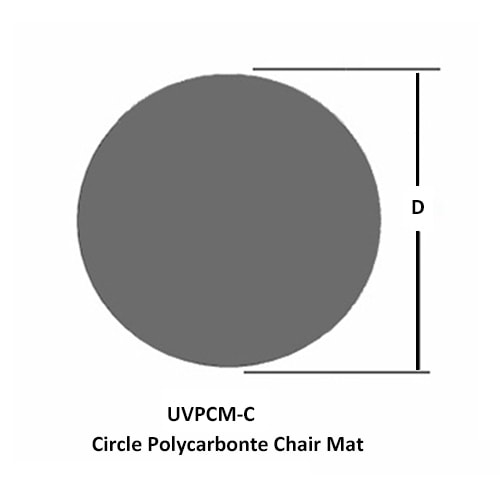 Model
Surface
D
(mm)
Thickness
(mm)
UVPCM-C-M
Polished / Frosted
762
2mm, Custom Thickness
UVPCM-C-L
Polished / Frosted
889
2mm, Custom Thickness
UVPCM-C-XL
Polished / Frosted
965
2mm, Custom Thickness
UVPCM-C-XXL
Polished / Frosted
1066
2mm, Custom Thickness
L-Type Office Chair Mat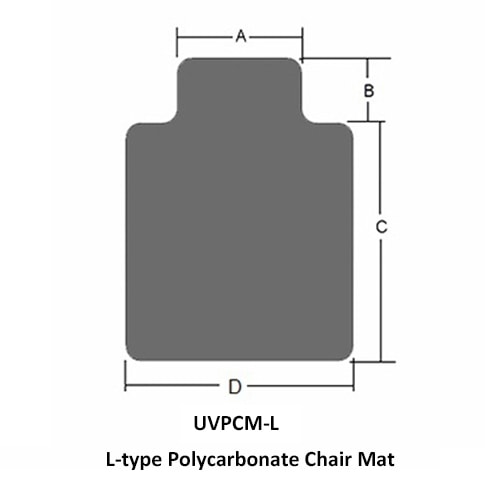 Model
Surface
A
(mm)
B
(mm)
C
(mm)
D
(mm)
Thickness
(mm)
UVPCM-C-M
Polished / Frosted
432
216
787
787
2mm, Custom Thickness
UVPCM-C-L
Polished / Frosted
483
241
864
864
2mm, Custom Thickness
UVPCM-C-XL
Polished / Frosted
483
241
965
965
2mm, Custom Thickness
UVPCM-C-XXL
Polished / Frosted
483
241
1067
1067
2mm, Custom Thickness
Frequently Asked Question