Bubble Tent Hotel: Unique Hotel Ideas in 2021
The tourism industry is booming and it will continue to do so. People love to get away from their same old everyday life and enjoy nature calmly from time to time. But today, we're not talking about the importance of traveling.
Today we're going to talk about a unique hotel idea that will be super attractive to travelers and you can make a lot of money.
Bubble Tent Hotel
Think about it, travelers visit new places to enjoy the view, but at the end of the day, they still spend the night under the same old ceiling as their home. Unless it's a 5-star luxury resort, there's nothing special about the hotel.
And you can grab the opportunity. How would your customers feel if you let them spend the night under the open sky? No, I'm not talking about sleeping at the terrace or balcony of your hotel.
I'm talking about actually spending the night under the sky in a transparent bubble tent.
These transparent glamping bubble tents are made of polycarbonate plastic. Looks like glass, although they're almost unbreakable and 250 times stronger than glass material. Here, maybe you want to know more about polycarbonate or know how to identify Polycarbonate from Acrylic.
Why Will Bubble Tent be a Great Idea for Hotels?
Tents are loved by travelers all over the world. It allows us to live near natural beauties when there are no hotels nearby or when travelers don't want to live inside a brick and mortar building.
Hotel developers don't need to build a hotel building, it saves lots of money and time.
With a bubble tent, you get more additional features. Unlike a regular tent, it's more safe and secured and has a way longer lifespan.
Let's see some of the major benefits of bubble tents as a hotel below:
Advantages for You as a Hotel Owner
First, let's see why you can make more money and build a profitable hotel business with this formula.
Unique Idea
Every hotel is more or less the same all over the world. It's an excellent opportunity for you to stand apart from the other hotels in your area.
If you think about it, there aren't many unique hotels out there. If you can build a hotel with this idea, you can easily make it go viral and attract hundreds, if not thousands of customers.
Low Investment
With this formula, you don't have to spend a lot on building a hotel in traditional ways. Setting up a hotel using bubble tents is extremely low cost and easy to set up. All you have to do is get the best glamping domes and place them in your preferred areas.
Low Maintenance
The domes don't require heavy maintenance. You need to clean them once in a while and it will be shining again.
Movable
One of these hotels' significant advantages is that you can move them easily from one place to another.
Free Marketing
With a site like this, you don't need to engage with extensive marketing. Because youtubers and bloggers will pick up your hotel naturally and that will help you be viral naturally.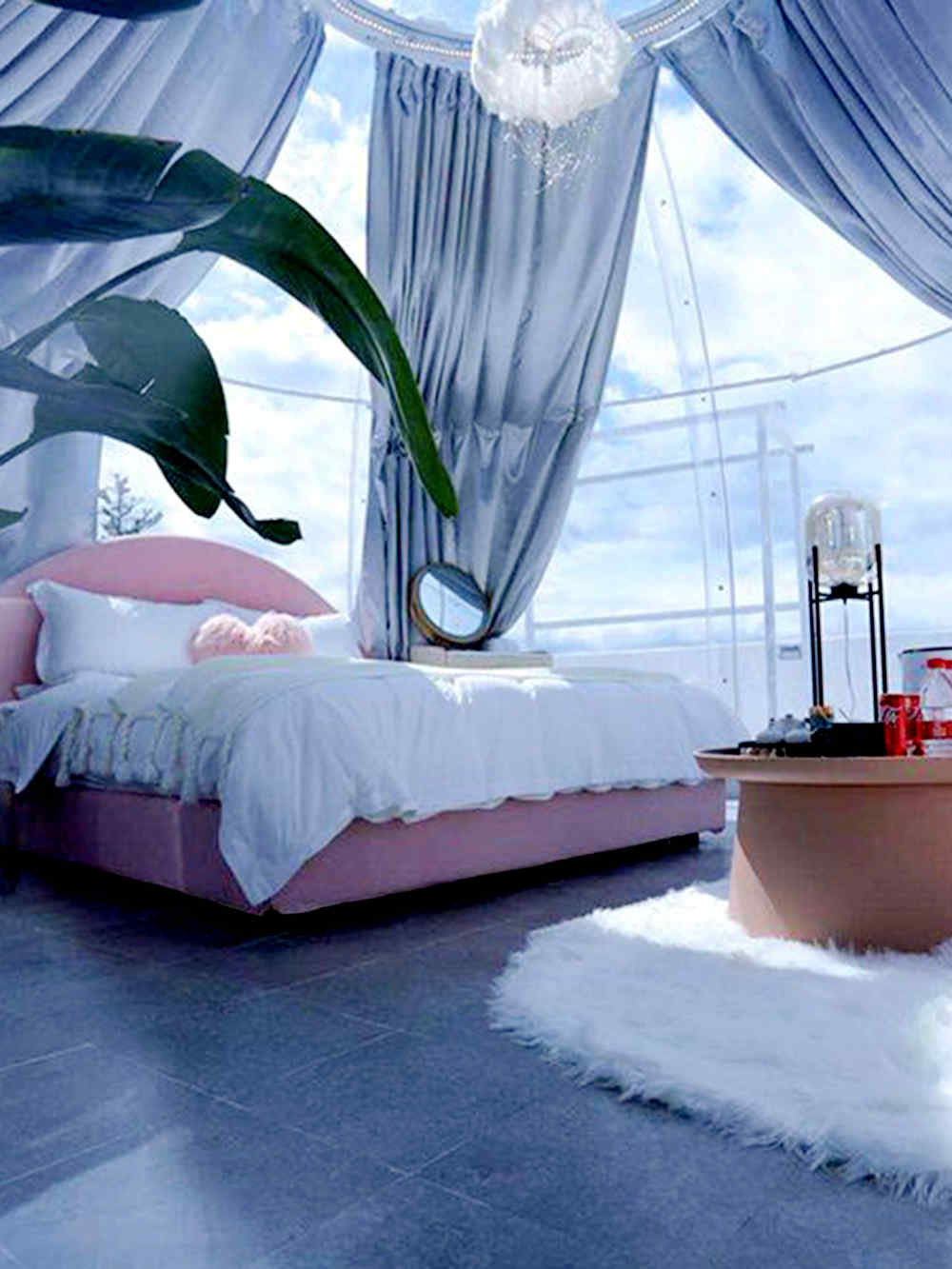 Advantages for the travellers
Now, let's see what unique features it offers for the travelers. Because hotel business is one of the most competitive businesses globally and if we can't provide the customers something unique, we've already fallen behind.
Safe and Secure
One of the reasons people tend to avoid tents is because it can be threatening in places where safety is an issue. If you're camping in a jungle, wild animals can be a threat. And traditional tents are an easy target for thieves and burglars.
With a bubble tent, you don't have any safety or security. These virtually unbreakable domes will keep you secure from any animal attacks and burglary.
Excellent view
Living inside one of the glamping tents can be a one in a lifetime opportunity for anyone. Your customers can enjoy the sky right from the comfort of their bed and count stars with their loved ones.
The clear and transparent polycarbonate plastic is physically invisible at night, which gives a fantastic view of the sky.
Great Ventilation System
The bubble tents that UVPLASTIC offers are great for ventilation, because it comes with a pre-installed ventilation system and option to install air conditioning.
Enjoyable for All Seasons and Weather Conditions
Polycarbonate bubble tents are waterproof and also protect you from extreme wind and heavy rains.
Best Places to Set Up Your Hotel
These domes are best for places that have a realistic view. So people can enjoy the sightseeing right from the tent. Here's a list of sites that can be a great option to set up your new hotel business.
Mountains
You can set up your bubble hotel in the mountains with a comfortable bed and telescope. People can feel the open sky above them and count the stars.
Sea Shore
People would love observing the sea shore from a transparent hotel and feeling the wave sounds late at night. And if the water level rises, you can always move the tents quickly.
Forests
The forest's silent and quiet environment pleases all audiences and they would love to come again on their weekends.
prairie
It is really good place to enjoy nature and Starry Sky. Meantime, maybe you will have a delicious roast dinner.
Roof of building
Yes, you can enjoy a wonderful and quiet night above the city, meantime, enjoy this beautiful city night.
End Note
Now it's your time to take action. If you're looking for a great business idea, a bubble tent can be the best idea for you now.
Setting up a business is not an easy task. But all the great companies start with an idea. And this can be the one for you.
If you need any information or help with this or how to successfully set up a tent with this formula, feel free to Contact UVPLASTIC, Click HERE to become our distributor/resaler.