Difference Between Inflatable and VIEWSKY Bubble Tents
Do you want to enjoy spending a romantic time on a wonderful night under the starry sky? Maybe the clear bubble tent will help you satisfy the wish, you can lay down in bed at night and see the mesmerizing sky full of stars, or have a memorable dinner with your loves.
Clear bubble tent is a 360-degree clear dome with a panoramic view, which is used in scenic resort hotels, star-rated hotels, homestay hotels, private villas.
Today, the PVC inflatable bubble tent is popular, but UVPLASTIC redefines the bubble tent by using a clear polycarbonate sheet. Let's talk and compare them now.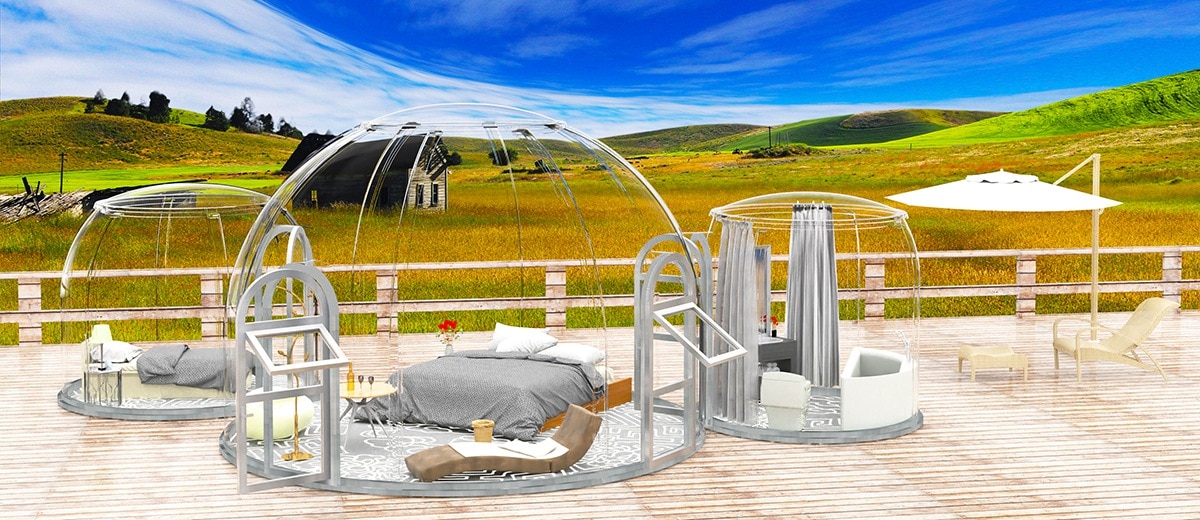 What is the inflatable bubble tent?
The inflatable bubble tent is made of PVC plastic, which can be folded when not in use. It can also be easily carried and stored since it is small in size. An air pump was used to inflate the bubble tent to the desired size according to the instructions which were provided. Buyers can choose bubble tents of different sizes depending on the number of people who are likely to use them. It is developed for people to spend their time outdoors enjoying the greenery, and the stars in the sky. But spending time outdoors is sometimes not very pleasant, because it can rain heavily or it may be very windy. Also, insects, pests, and other animals will attack a person who is outdoors without any protection. Hence a plastic bubble tent was devised which allowed people to enjoy the outdoors while remaining protected.
What is the VIEWSKY Clear Bubble Tent?
The VIEWSKY Bubble Tent is a new type of clear outdoor tent which is developed by UVPLASTIC, which is a leading manufacturer of polycarbonate and acrylic sheets and the top supplier of machining polycarbonate service in China, VIEWSKY is the brand name. A clear bubble tent can overcome the limitations of the bubble tents which are presently available in the market. It has been developed after extensive research and is made from high-quality clear solid polycarbonate sheets, not acrylic sheets (Know more difference acrylic VS polycarbonate). Studies show that Polycarbonate is virtually unbreakable and offers high impact resistance and flame retardance. Hence polycarbonate is used extensively for making various items where impact resistance is important, like bulletproof glass, riot shield, and now high-quality bubble tents.
To protect the tent from the harmful Ultra Violet (UV) radiation in sunlight, the tent is coated with a special material that shields the tent against UV radiation. This ensures that the tent lifespan is more than ten years. If the client requires privacy, they can easily install curtains, which they can adjust depending on the privacy level required.
The durable VIEWSKY tent is ideal for different types of hotels and lodges like resorts, star hotels, homestays. People can also use it in their private villa if they wish to sleep outdoors and enjoy the stars in the sky and natural beauty outside. People can spend time in the bubble tent, have their dinner, and then go to sleep, after watching the sky.
Inflatable Bubble Tent Vs. VIWESKY Bubble Tent?
The main difference between the conventional inflatable PVC bubble tent and the VIEWSKY tent, which is made of clear polycarbonate is in the strength of the material used. PVC is not a strong material so it can't be used in winter, especially in areas with snowfall and hailstorms. During heavy rainfall and windy weather like cyclonic storms, the PVC tent will also not be able to protect those inside the tent. The polycarbonate tent is made of extremely strong material, which can withstand all weather conditions.
The PVC tent is not fireproof and is likely to get damaged by the UV rays of the sun. This will reduce the lifespan of the PVC tent while the polycarbonate tent is not damaged by UV rays due to the coating applied. The PVC tent will also require a separate air supply, and providing additional pumps that result in noise.
Why should you choose VIEWSKY Clear Bubble-tent?
Safer
VIEWSKY Bubble tent is made of polycarbonate sheet, it is stronger and high impact resistant, it can protect you from hurting by the animal when sleeping. It is 250 times stronger than glass, and 20 stronger than the acrylic sheet, want to know more about the difference between polycarbonate and acrylic sheet.
Fireproof
The fire rating of the polycarbonate sheet is V1/V0 UL94, the fire rating is very high.
Quiet and Easy to use
Unlike PVC inflatable bubble tent, you don't need to use an air pump for VIEWSKY Bubble Tent, no noise from the air pump.
Keep privacy
You can install a curtain in VIEWSKY bubble tent, and open or close the curtain at any location.
Longer lifespan
Polycarbonate sheet with a UV protective coating, it can block 99.9% ultraviolet rays, and protect bubble tent from yellowing for more than 10 years.
All season products
Polycarbonate sheet can work well between -40 degrees and 120 degrees, with the help of an air conditioner, you can use it all seasons.
If you are the owner of hotels, VIEWSKY clear bubble tent will increase the business.
If you are the top manager of a chain hotel, VIEWSKY bubble tent will be a great product to develop a new market.
If you are the owner of a luxurious restaurant, VIEWSKY will be a great idea to provide an enjoyable dinner for your client.
High Quality
VIEWSKY is a brand of UVPLASTIC, which is a leading manufacturer of polycarbonate sheet and a top provider of machining polycarbonate services. With more than 17 years of experience in this field, we know more about polycarbonate sheet. Therefore, VIEWSKY bubble tent is high-quality.
Related Article
About UVPLASTIC
UVPLASTIC Material Technology Co., Ltd is a LEADING SUPPLIER and INTEGRATED MACHINING SOLUTION PROVIDER in the engineering plastic field, established in Suzhou, China in 2003. We have Five Factories, they are providing polycarbonate sheets, acrylic sheets, machining Services, coating services, and trading businesses.
UVACRYLIC is a subsidiary of UVPLASTIC, which is a leading manufacturer of acrylic sheets.
Related products