How to Choose the Best Glamping Dome For Your House
Who doesn't like lying under a clear blue sky? Well, I do!
If you're like an outdoor person like me, you must've used or at least heard of glamping domes.
If you haven't yet. No worries, you're about to!
Glamping domes are one kind of tent or shelter specially used for camping.
But of course, it has come a long way and has a wide variety of applications. We'll get to know more about those later in this guide.
But this is not always sunshine and roses for us. Why?
Because of insects, rough weather conditions, rain, or fear of animal attacks, especially in the woods or sometimes the rain starts to pour.
Whatever the reason is, there's a need for a shelter that protects you from these unwanted elements, but in the meantime, lets you enjoy the moment.
And that is Glamping Domes.


Glamping domes are tents but not in a traditional way. They are shaped at a circular angle and offer a transparent material as a shell, mostly PVC, that lets people enjoy the moment while keeping them safe and secure.
For the past couple of years, campers have been using Geodesic Domes for their needs.
When you start using one of those, you soon realize that this mightn't be as pleasant as it seems from the outside.
Why?
Because Geodesic Domes often fail to meet the expectations of users.
But, where there's a will, there's a way, right?
In UVPLASTIC, we thrive on solving real-world problems in our capacity. And we successfully did this again this time.
Let us introduce the ultimate Glamping dome, a solution for all outdoor lovers and campers.
This guide gives you a better understanding of what benefits you're getting when using the Viewsky domes and what you're missing out on until now.
So let's dive right in.
Geodesic Domes vs. VIEWSKY Glamping Domes
Transparency
The traditional domes offer transparency, but "to an extent."
Sure, you'll be able to see through. But will you be able to count the stars? Maybe, maybe not.
VIEWSKY Bubble Tent is made of polycarbonate sheet, which is 250 times stronger than glass. Meantime, like acrylic sheet, polycarbonate sheet offers excellent light transmittance, but it can block more than 99% of ultraviolet ray, therefore, it can protect you when you are lying in. Here to know everything about polycarbonate sheet.
With the VIEWSKY Non-Inflatable Glamping Dome Bubble Tent, you get transparency to an extent where you'll be confused about the presence of a bubble tent from time to time.
You can count all the stars above you and beyond. Our state-of-the-art technology makes it so crystal clear; you'll get an experience of a lifetime.
Privacy
Transparency doesn't mean that you have no privacy in this tent! We've designed these tents in a way that allows you to install a curtain in a minute. It is one factor of difference between inflatable and VIEWSKY Bubble Tent.
You can install a curtain on the traditional geodesic domes, but it takes a considerable amount of time and effort compared to the VIEWSKY.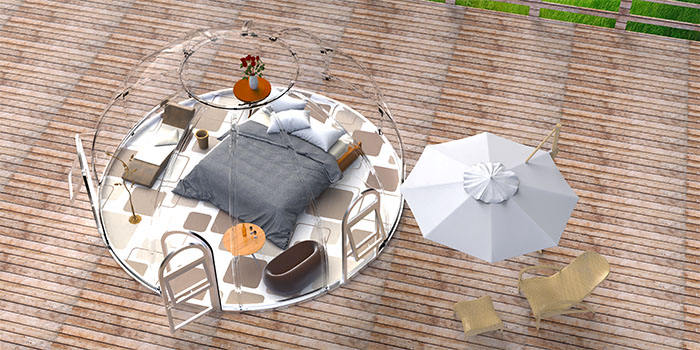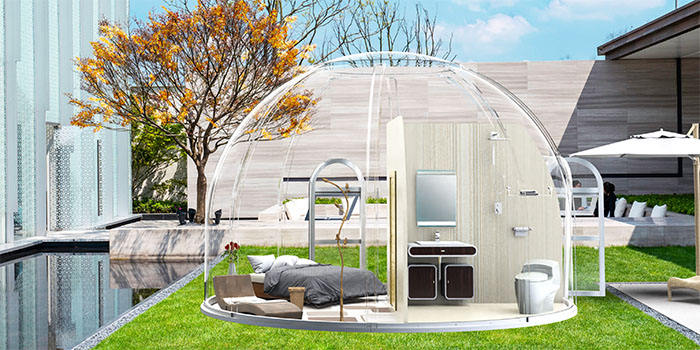 Air Ventilation
If you've ever used any geodesic domes of PVC inflatable bubble tent, you know the pain of air ventilation. You need some air inside these bubbles, right?
But that shouldn't be so hard to get. In our unique bubble tents, you don't need to break your teeth over air ventilation.
How?
With VIEWSKY Glamping Domes, you get a built-in aluminum window and ventilator. So you never run out of air again!
Security
Both these tents provide a stable surface to make sure you remain safe inside it. But when it comes to our special VIEWSKY bubble tents, we took it one step further.
The tents are extremely heat and fire-resistant, something that campers have been demanding for so long, and now you have it.
The bubble tent is made in a way that cracking or breaking down is out of the options. The materials are almost 250 times stronger than glass that making sure you and your loved ones are safe and secure inside of it.
The goal is not only to make you safe and secure. Our goal is to make you feel safe and secure, as well.
And that is what we focused on the most alongside the design of this material.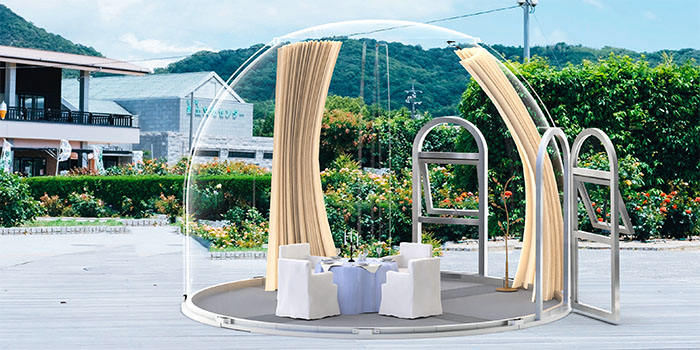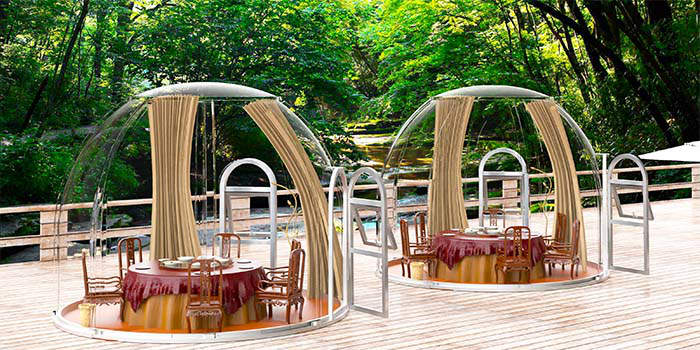 UV Ray Resistant
Talking about safety, another great advantage you get when using a Viewsky Bubble Tent is that it blocks 99.9% of harmful UV rays from the sun while offering an amazing light transmission capacity.
Easy to Form
Another significant obstacle campers face is that it takes a lot of time for them to assemble and form the structure.
And as a camper myself, I can't tell you enough how frustrating it sometimes gets, especially if you're assembling them at night. That's a nightmare for sure.
Well, not anymore!
Our VIEWSKY bubble tents let you quickly form and assemble your tent in a matter of minutes. So you get more time enjoying and not assembling or disassembling your tent.
Durability
When it comes to durability, Viewsky Bubble tents win by large.
All of our products, including this, are designed to make sure it doesn't get broken even in the highest of impacts.
When you get one of our tents, you're not going to need another in a long time.
Weatherproof
Strong products don't always mean that they can withstand the rough weather. Products like these bubble tents are meant to be used in forests, woods, or places where weather conditions may occur.
You need a shelter that can withstand the worst weather. Heavy rains, strong winds, or whatever the situation might be, safety is the first concern.
When you're inside a VIEWSKY bubble tent, you are in a safe position. These tents are designed to protect you from any kind of rough weather conditions.
For Other Commercial Uses:
If you're not a camper and considering bubble tents, you're in the right place!
Our bubble tents are equally loved by resorts, outdoor restaurants, or even outdoor event planners! Leave us a message about your needs and we'll certainly reach out to you with the best solution for your needs!
Here, maybe you want to know the material. Yes, it is polycarbonate plastic:
Imagine, if you use a glamping tent for your booth at an exhibition or as a POP display, please see the left picture, it is a distributor of air conditioner use VIEWSKY Bubble Tent at their store.
Conclusion
Now, maybe you know glamping tent. In fact, there are many applications of VIEWSKY glamping tent.
If you have any questions don't hesitate, reach out to us. We're always happy to help.
Now, I'd like to ask you one question: What is the best place for camping in your country? Let us know.
And don't forget to share this guide with your camping buddies! Happy Camping!
Know More About Our Blogs